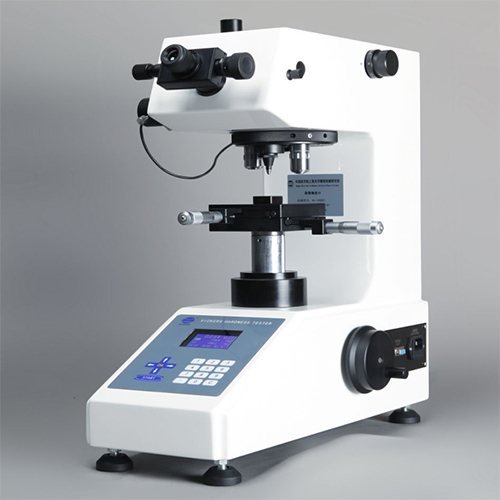 Micro Hardness Testers
Price And Quantity
Product Specifications
Product Description
We are offering here the Micro Hardness Testers are a method of determining a material's hardness or resistance to penetration when test samples are very small or thin, or when small regions in a composite sample or plating are to be measured. It can provide precise and detailed information about surface features of materials that have a fine microstructure, are multi-phase, non-homogeneous or prone to cracking. The Micro Hardness Testers method use an indenter probe that is displaced into a surface under a specific load.
SPECIFICATIONS
Digital Micro Hardness Tester Manufacturer in Delhi, Digital Micro Hardness Tester Suppliers in Delhi, Digital Micro Hardness Tester in Delhi
Special designed for improving the working efficiency of our customers as itsautomatically design. After adjusting the focal length, the objective lens and indenter can be switched automatically. And the testing force can load, dwell and unload automatically. Then the objective lens will automatically return to the initial focus state, and the length of indentation can be measured directly.
Coating adopted car paint technology with white color. Looking more decent, and with the advantage of fullness, high gloss and more scratch resistance. Used for many years looking still bright as new.
The independent research and development of lifting system and positioning system, ensured the accuracy and repeatedly of the testing process.
The optical system designed by senior optical engineer not only meet the definition of hardness testing requirements, but also can observe the metallographic structure of the material.
With Vickers hardness and Knoop hardness testing capabilities, and testing force can be extended to 2KG.
Testing method, testing power and duration time can be displayed directly on theLCD screen.
The hardness value can be displayed directly by entering the indentation diagonal length and avoid the complication of the look-up table.
According to different visual habits of the operators, the strength of the light source can be adjusted. To avoid the visual fatigue for long time operation.
The testing data able to be printed directly by thebuilt-in printer.
Reserved image channel,can be connected with computer, used the image analysis software to analyzing the physical and chemical properties of the material.
Testing the hardness of metallographic structure, from the most soft material to the most hard material.
Carburizing, nitriding, hardened layer, surface coating, steel, nonferrous metals.
The hardness of the glass, ceramic materials.
ECHNICAL PARAMETERS
Model

SRI-HCV 1000 DIGITAL

Testing Force

10g(0.098N)、25g (0.245N)、50g (0.49N)、100g (0.98N )、200g (1.96N)、300g (2.94N)、500g (4.9N)、1000g(9.8N)

Scale

HV0.01、HV0.025、HV0.05、HV0.1、HV0.2、HV0.3、HV0.5、HV1、HV2

Min. Measuring Unit

0.25μm

Hardness Value Rang

1HV-4000HV

Hardness Value of Reading

Digital LCD Screen

Total Magnification of Microscope

100X(For Observation)、400X(For Measurement)

(Can be extended to 200X or 600X)

Loading Method

Automatically (Load, dwell and unload the testing force)

Duration Time

1-99s

Switch Type of Objective lens and Indenter

Auto Turret (Objective Lenses-Indentor-Objective Lenses switching Automatically)

Specimen Allowing Maximum Height

85mm

Distance from Indenter Center to Fuselage

120mm

Overall Dimension

490×185×515mm(L×W×H)

Net Weight

45kg

Light Source

LED Cold light source (can be continuous use for 24 hours, no heat generated, servicing life can reach 100,000 hours)

Power Supply

110V/220V + 5%, 50/60 Hz

X-Y Testing Table

Dim.:100×100 mm, Max. Travel Range: 25×25mm, Moving Resolution Ratio: 0.01mm

Data Output

Built-in Printer(Hardness Value, The Max. And Min. Value, Testing times and Average Value)

Built-in RS-232 interface

Standard Accessories

1 piece: 10X micrometer eyepiece; 10X and 40X objective lens; Vickers indenter; X-Y Testing Table; Flat Fixture; Small Parts Fixture; Water level; Power line; Dust cover; Instruction Book; Hardness Conversion Tables;Accessory case 2 pieces:
Contact Us
Plot No. 22/8, Om Nagar, Badarpur, New Delhi, Delhi, 110044, India
Phone :+918035928954